203-661-6000
170 Mason Street, Greenwich, CT 06830
Attorney John Q. Kelly appears on Fox News to discuss the case of a Connecticut Man Charged with Killing Anguilla Hotel Worker
GREENWICH, CONN. (PRWEB) SEPTEMBER 9, 2019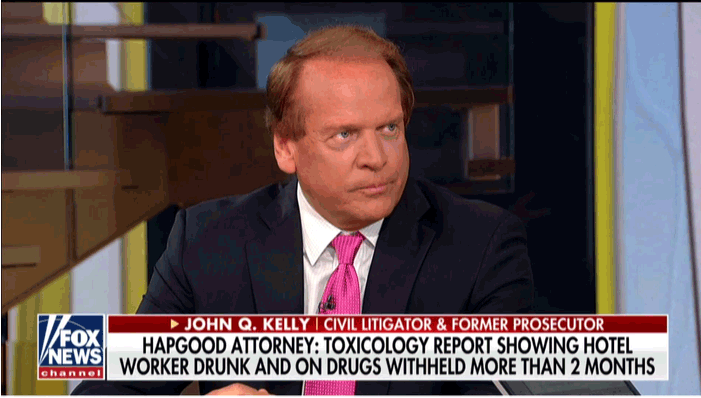 Attorney John Q. Kelly of the law firm Ivey, Barnum, & O'Mara, LLC appeared on Fox News' "Outnumbered Overtime" show recently to discuss the pending court case of a Connecticut man charged with the killing an Anguilla hotel worker.
Connecticut banker Scott Hapgood is accused of manslaughter in connection with the death of hotel maintenance worker Kenny Mitchel. (Gavin Scott Hapgood v Regina in the Courts of Anguilla CLAIM No. AXAHCV 2019/0018) Hapgood has told authorities that Mitchel came to his hotel room door on April 13 at the Malliouhana An Auberge resort on the island of Anguilla, wielded a knife, tried to rob him, and threatened his daughter. Hapgood then used reasonable force to restrain him.
The ensuing confrontation and struggle left Mitchel dead and Hapgood bloodied and bruised. "You are allowed to use reasonable force to protect yourself and your family from bodily harm," Kelly commented.
According to Kelly, there are three main issues that are going to prove important in the trial. One will be the autopsy, or what actually caused Mitchel's death. The Fox News interview with Kelly (https://video.foxnews.com/v/6075825576001/#sp=show-clips), which aired on Aug. 22, 2019, reported that Hapgood's attorney said toxicology results show Mitchel had cocaine and alcohol in his system at the time of death, which may have caused him to act in a "frenzied" manner or may have been a contributing factor in his death. (https://www.stamfordadvocate.com/local/article/Report-Man-allegedly-killed-…) Second, the processing of the crime scene will play an important role in the trial. Third, determining whether witness statements were written down properly or videotaped, signed, and otherwise recorded accurately.
When asked if he thinks Hapgood can receive a fair trial, Kelly said it is hard to tell that ahead of time. Factors which will affect the outcome include the judge assigned to the case, the way in which the jury deliberates and how the prosecutor presents his evidence. Kelly also noted that the media portrayal of the case and any possible bias can also impact the trial.
About Ivey, Barnum & O'Mara, LLC
Ivey, Barnum & O'Mara, LLC is a general practice law firm which was established in Greenwich, CT in 1950. It is the largest Greenwich-based law firm, with a fully staffed branch office in New Canaan, CT and White Plains, NY.
The firm is dedicated to its clients and community and offers service in a wide range of practice areas including personal injury and wrongful death, residential and commercial real estate, trusts and estates, employment law, civil litigation, corporate and franchise matters. The firm employs the latest technologies to successfully achieve their clients' objectives, whether personal, family or business.
To learn more, visit https://www.ibolaw.com/ or call 203-661-6000 to schedule a consultation.