203-661-6000
170 Mason Street, Greenwich, CT 06830

$5,850,000
---
Young woman suffered severe traumatic brain injury while she was the passenger in a vehicle that was broadsided by a tractor-trailer that ran a red light while exiting I-95 South.

$3,250,000
---
Woman was violently struck by a school bus while walking home from work, suffered a traumatic brain injury.

$3,010,488
---
Motor vehicle operator struck worker while he was placing materials into the back of his work van, colliding full on with the rear of the van, pinning individual between both cars, causing deep lacerations, almost fully severing his leg.

$2,850,000
---
Estate of a passenger in a private plane crash who sustained fatal injuries.
Westchester County Truck Crash Attorneys
Lawyers in Fairfield County for Victims of Trucking Accidents
The trucking industry is considered by many to be the lifeblood of the American economy. Each year, millions of truck drivers haul billions of tons of freight over countless miles of highways and local roadways. Commercial trucks are massive vehicles, weighing as much as 80,000 pounds with a full load of cargo. They are many times larger and heavier than passenger cars, pickup trucks, and SUVs, which means that when a truck is involved in an accident, the results can be horrific.
At Ivey, Barnum & O'Mara, LLC, our experienced personal injury attorneys work on behalf of victims injured in all types of truck accidents. For more than 70 years, our firm has been serving the residents of the Metro New York area. In that time, we have recovered tens of millions of dollars for our clients and developed a well-deserved reputation as a firm that gets results. If you or a member of your family has been hurt in an accident involving a large truck, you can depend on us to provide the guidance you need.


Causes of Truck Accidents
---
Truck accidents occur every day and for a wide variety of reasons. Unfortunately, most injury-causing truck accidents might have been avoidable except for someone's negligence or recklessness. Sometimes, fault for an accident may lie with the driver. In other cases, the manufacturer of the truck or its parts may be to blame. No matter what caused your accident, our team is ready to help you take action.
Driver fatigue and errors
Inadequate driver training and negligent hiring
Loose or falling cargo
Tire blowouts and poorly maintained truck parts
Types of Injuries
---
A large truck crash is much like any other traffic accident in that those involved can suffer a wide range of possible injuries. At Ivey, Barnum & O'Mara, LLC, we help injured victims seek compensation for medical expenses, lost wages, pain and suffering, and emotional distress related to all types of injuries. Our lawyers will work with your doctors to determine the full extent of your injuries, along with a prognosis for your recovery. We handle injuries such as:

Traumatic brain injuries (TBI)

Spinal cord injuries

Back and neck injuries

Broken bones and lacerations
Wrongful Death
---
The disparity in size between a commercial truck and a passenger vehicle means that it is not uncommon for the occupants of the smaller vehicle to be killed in accidents involving large trucks. If driver error, falling cargo, or poor maintenance led to an accident in which you lost a loved one, the team at Ivey, Barnum & O'Mara, LLC can help you explore your options for collecting compensation through a wrongful death lawsuit. Wrongful death compensation can help you and your family rebuild your lives.
Catastrophic Injuries
---
Truck accidents can cause all types of serious injuries, ranging from broken bones to deep cuts that leave lasting scars. In some cases, however, a victim may suffer injuries that are life-altering. At Ivey, Barnum & O'Mara, LLC, we work with truck accident victims who have suffered catastrophic injuries such as severe head trauma, amputated or severed limbs, quadriplegia, and paraplegia. These types of injuries often lead to astronomical medical bills, necessary home modifications, and dramatically decreased quality of life for the victim.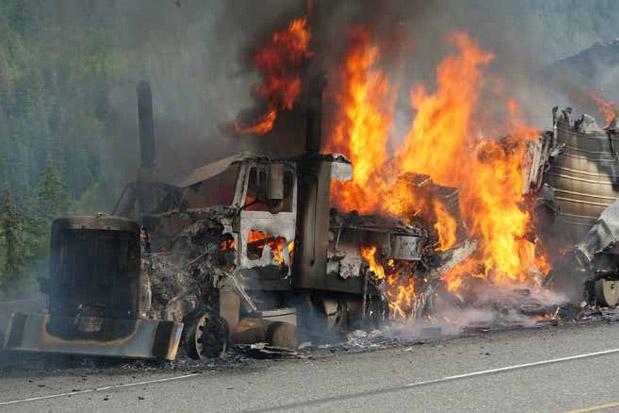 Who Is Responsible?
---
In any truck accident case, there are a multitude of potentially liable parties. The driver, of course, may assume some of the responsibility, as well as the trucking company that hired the driver. The company or companies responsible for loading or unloading cargo may also share in the liability. If truck maintenance or defective parts contributed to the crash, maintenance providers and parts manufacturers may be held responsible as well. Our lawyers will work with you to determine how the accident occurred and which party or parties may be liable for your injuries
Frequently Asked Questions

Should I Expect the Truck Company's Insurance to Pay for My Injuries?
Trucking companies are notorious for refusing to admit liability when an accident occurs. They are also unlikely to offer a settlement that fully meets your long-term needs. You should not sign anything or agree to any settlement offers until you have met with an experienced truck accident attorney from Ivey, Barnum & O'Mara, LLC.

Is a Drunk Truck Driver Automatically Responsible for an Accident?
If a truck driver is involved in an accident, and the police discover that the driver was under the influence of alcohol or drugs, the driver is presumed to have been negligent. Negligence, however, is just one part of a truck accident case. This means that if the driver was drunk, your chances of collecting compensation for your injuries are good, but there is still much work to be done on your case. Your lawyer can help you throughout the process.

Do I Need to Be Seriously Injured to Collect Compensation?
According to the law in both New York and Connecticut, if a truck accident caused by another party's negligence or recklessness has resulted in you suffering any losses whatsoever, you have the right to seek compensation. Such losses include any medical bills, property damage, time away from work, and many other considerations. Our attorneys can help you determine how much your case might be worth, even if you were not severely injured.

Can I Collect Compensation for a Weather-Related Truck Accident?
Weather is often a factor in traffic accidents here in the Northeast part of the country, but bad weather is not an excuse for negligence. Truck drivers have a responsibility to operate their vehicles in a safe and responsible manner, regardless of inclement weather conditions. If you have been injured in a truck accident in which snow, ice, fog, or rain was a factor, your attorney can help you understand your options for taking action.
Contact Us
NOTE: Fields with a
*
indicate a required field.