203-661-6000
170 Mason Street, Greenwich, CT 06830
Michael J. Jones
Phone: 203-661-6000
Location: Greenwich, CT
sserddA liamE wohS
Print
Michael J. Jones was born in The Bronx, New York. He graduated cum laude and with High Honors from Colgate University and received his J.D. from Boston College Law School.
Mr. Jones' areas of practice include personal injury and wrongful death, commercial and corporate litigation, residential real estate and estate litigation. He presently chairs Ivey, Barnum & O'Mara's litigation department and is one of the firm's Managing Members.
Mr. Jones is highly respected for his reasoned approach to dispute resolution and settlement negotiation, providing practical advice for clients during the entire litigation process. Mr. Jones serves as a Special Master/Mediator in the Stamford Superior Court. His litigation client base includes individuals as well as business and financial institutions, large and small. Mr. Jones has been instrumental in building the firm's Personal Injury/Wrongful Death practice into one of the premier tort recovery groups in the Tri-State area.
Mr. Jones' residential real estate practice encompasses all aspects of real estate transactions from contract through closing, for buyers and sellers throughout Connecticut and New York. Mr. Jones acts as counsel to the Greenwich Association of Realtors.
Mr. Jones is active in the community. He is a member of the Advisory Board for, and General Counsel to, the Greenwich Concours d'Elegance and a past member of the Board of the Town of Greenwich Parks and Recreation Foundation. He has done volunteer work for the United Way and is a member of the Colgate University President's Club and the Colgate Football Maroon Council.
Media Appearances
Mr. Jones has appeared as a legal commentator on various national television programs and outlets, including Fox News, NBC News, NBC's Today Show, MSNBC Live, CNN's OutFront with Erin Burnett, and locally on News 12 Connecticut and NBC 30 Hartford News.
Practice Highlights
Mr. Jones was lead counsel on behalf of the family of the late George Smith, in the renowned case involving the honeymooner's disappearance from a Royal Caribbean cruise ship in 2005.
In June, 2012 Greenwich Magazine featured a cover story entitled "Mystery At Sea" about the Smith case. The story noted in part that Mr. Jones has for "six years…pursued the Smith case with a cop's tenacity—a tenacity no doubt bequeathed by his late father, a New York City police detective stationed at Fort Apache, the legendary South Bronx precinct. "I've made it my mission to push this case to the point where George's killer is indicted and convicted," says Jones."
The Greenwich Magazine article was featured on a billboard in Times Square in May, 2012: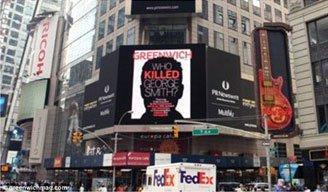 On January 6, 2012, Mr. Jones appeared on NBC's Dateline, an hour long show about Mr. Smith's disappearance and also on NBC's Today Show with Matt Lauer. CBS News - 48 Hours featured an hour long update of the George Smith case in a special which aired on July 5, 2014. A good portion of the 48 Hours show focused on Mr. Jones' attempts to obtain justice for Mr. Smith.
Practice Areas
Education and Admissions
Colgate University
Boston College Law School
State of Connecticut
State of New York
U.S. District Court, District of Connecticut
U.S. District Court, Southern District of New York
2nd Circuit Court of Appeals
9th Circuit Court of Appeals
United States Supreme Court
Professional Affiliations
American Bar Association
Connecticut Bar Association
New York Bar Association
Fairfield County Bar Association
Greenwich Bar Association (Past President, 2007)
Connecticut Trial Lawyers Association
Honors and Awards
Martindale-Hubbell® AV Preeminent™ Peer Review Rated
Multi-Million Dollar Advocate Forum
America's Top 100 High Stakes Litigators