203-661-6000
170 Mason Street, Greenwich, CT 06830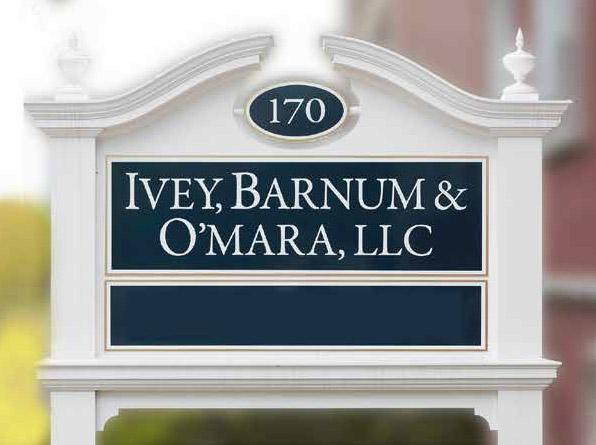 Fairfield County Corporate Attorneys
Lawyers in Westchester County and NYC Representing Entrepreneurs and Businesses
At Ivey, Barnum & O'Mara, LLC, our experienced attorneys provide trusted guidance and skilled representation to all types of commercial and business clients. We help new small business owners and entrepreneurs investing in startups, as well as established companies and large financial institutions and lenders.
Regardless of the size of your company or the scope of your business interests, we can assist with all aspects of your legal affairs. Our lawyers can help you with day-to-day concerns, significant transactions, and all other matters that might require a knowledgeable legal professional. By taking the time to know you and your business, we can offer thorough, practical advice and develop solutions that are customized to meet your needs.


Frequently Asked Questions

Why do I need a lawyer to start a business?
In today's digital world, there are countless resources and do-it-yourself sites on the Internet, including many that offer DIY business legal services. While this might seem like a good way to save some money at startup, the reality is that DIY legal websites generally user boilerplate forms and a one-size-fits-all approach that may not, in fact, fit your needs at all. A qualified business lawyer from Ivey, Barnum & O'Mara, LLC can help you analyze your unique situation and assist you in building your business from the ground up.

What is the best type of structure for my business?
Each type of business structure offers a different set of benefits and potential drawbacks. Whether you should choose a partnership, LLC, S-corporation, or C-Corporation will depend on a number of factors, such as your preferences regarding taxes, how your business will be funded, your intended management system, and much more. You should not choose a business structure until you have your business plan reviewed by an experienced business law attorney.

What is a breach of contract?
When you enter into a contractual agreement with another party, you each expect the other to live up to the terms of the agreement. If the other party fails to do so, and you suffer losses as a result, you could seek relief through a breach of contract claim. With the help of your attorney, your breach of contract claim could ask the court to force the other party to comply with the contract or to absolve you from your contractual obligations. The court could also award financial damages to compensate you for your losses.

Is now a good time to buy a business?
At any given time, certain business sectors are experiencing strong growth, even if others are struggling. It is also possible to find good opportunities within a shrinking industry if you have the right knowledge and ideas for how to make the best of the situation. Before you make any decisions to buy, you should speak with a qualified business lawyer from Ivey, Barnum & O'Mara, LLC. Your attorney will help ensure you fully understand all of the potential risks, as well as the possible benefits of buying a business.
Contact Us
NOTE: Fields with a
*
indicate a required field.