Attorney John Q. Kelly and Ivey, Barnum & O'Mara, LLC Launch Podcast About the Unsolved Murder of Matthew Margolies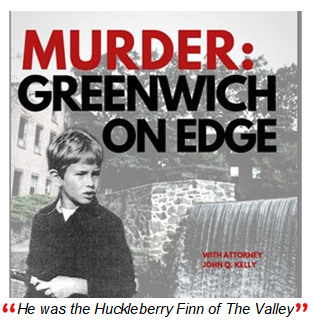 GREENWICH, CT (PRWEB) January 6, 2020 – Attorney John Q. Kelly and Ivey, Barnum, & O'Mara, LLC recently launched a six-episode podcast about the unsolved murder of Matthew Margolies in Greenwich, Conn.
With vast experience in handling high-profile cases, against O.J. Simpson, Joran van der Sloot, and Drew Peterson, Attorney John Q. Kelly introduces the public to the horrific death of Margolies, who was only 13 years old at the time of his brutal murder 35 years ago.
Attorney Kelly takes a close look at the facts and fiction surrounding this cold case that devastated the Margolies family and their working-class neighborhood. None of the members of this close-knit community, known as the "Valley," supposedly saw or heard anything the night of the murder. Although there were initial suspects, no arrests were ever made in connection to the killing. Delays and loose ends have caused the case to remain unsolved.
In Attorney Kelly's podcast, he discusses the case with the Margolies family, as well as other prominent figures in the criminal justice system. These include former Det. Bo Dietl of the NYPD, pathologist Michael Baden, retired LAPD Det. Mark Fuhrman and Greenwich Police Capt. Robert Berry. Dorthy Moxley, the mother of murdered Greenwich teen Martha Moxley, also weighs in.
The podcast focuses on different aspects of the case, including why Matthew's murder did not garner much media attention, the murder weapon, and statements from potential suspects. The episodes are titled: "The Footnote Murder"; "Happy Valley"; "Absence, or Abundance, of Evidence?"; "Twin Peaks"; "Two Fishy Stories"; and "Pulling it Together." All six episodes are now available on iTunes and other major apps.
About John Q. Kelly, Esq.
Subsequent to his landmark verdict as lead attorney for the Estate of Nicole Brown Simpson in its wrongful death action against O.J. Simpson, John Q. Kelly continues to successfully handle a wide variety of wrongful death and personal injury matters, many of which receive national and international coverage (opposed O.J. Simpson, Joran van der Sloot, Drew Peterson, to name a few). Mr. Kelly is known to be a meticulous, no-nonsense litigator, schooled in the nuances of physical, forensic and circumstantial evidence, and battle-tested in the courtroom on countless occasions.
About Ivey, Barnum & O'Mara, LLC
Ivey, Barnum & O'Mara, LLC, is the largest Greenwich, CT-based law firm, with additional offices in New Canaan, CT and New York City.
Established for more than 65 years, Ivey, Barnum & O'Mara, LLC's team of accomplished and dedicated attorneys represent clients in a wide range of individual and corporate legal issues, including: Personal Injury/Wrongful Death, Litigation, Residential and Commercial Real Estate, Land Use/Zoning, Trusts and Estates Planning, Corporate Law, Franchise, Employment Law.
To learn more about Ivey, Barnum & O'Mara, LLC, visit https://www.ibolaw.com/ or call 203-661-6000.