June 2014 – Ivey Barnum & O'Mara names Andrea C. Sisca as new associate. Andrea's areas of practice include commercial and general litigation matters, products liability, and personal injury. She has also handled foreclosure, construction defect, environmental contamination cases and residential real estate transactions. Andrea earned a Bachelor of Science degree in Business Administration with concentrations in Marketing and Management from the University at Albany in 2006. She received her J.D. from Albany Law School in 2010. Andrea is admitted to the bars of the States of Connecticut and New York. She is also admitted to the United States District Courts for the District of Connecticut, the Southern District of New York, the Eastern District of New York, and the Second Circuit Court of Appeals. She is a member of the Connecticut and New York State Bar Associations.
Ivey Barnum & O'Mara names Stephen M. Napier as new associate. Stephen practices in the areas of estate and tax planning, trust and estate administration and business succession planning. Stephen advises individuals, families and business owners on developing tax-efficient and practical wealth management strategies, including the preparation of wills, revocable living trusts, insurance trusts and business succession plans. He also helps guide fiduciaries and beneficiaries through the estate settlement and trust administration process. Stephen received his J.D. from the University of Connecticut School of Law, where he served as associate editor of the Connecticut Law Review, and received his B.A., summa cum laude, in Political Science from the University of Connecticut. He is admitted to practice in Connecticut and is a member of the Greenwich, Fairfield County, Connecticut and American Bar Associations.
Attorney Mark J. Schnitzler named to Super Lawyers® Connecticut Rising Stars list. As reported in Connecticut Magazine Super Lawyers Special Advertising Section - February 2014, "Mark has successfully expanded his experience in insurance defense work to become an integral part of the firm's wrongful death and personal injury department. He is responsible for the day-to-day handling of all wrongful death and catastrophic injury cases in the office. Mark's comfortable and confident demeanor, along with his vast knowledge of the legal process, eases his clients' concerns and allows him to clearly communicate complicated issues. His aggressive and thoughtful litigation style has resulted in outstanding success throughout his career."
Ivey Barnum & O'Mara wins a $1.9 Million unanimous jury verdict against the City of White Plains, N.Y., in the wrongful death of Concetta Russo-Carriero who was fatally stabbed in 2005 by a homeless, registered sex offender in the parking lot of a mall in White Plains (Mark J. Schnitzler successfully argued the case on behalf of Russo-Carriero's family.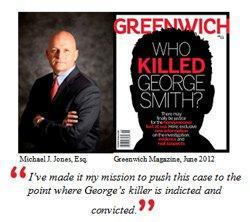 On Saturday, May 11, CBS News "Michael J. Jones, a longtime Partner of the Firm and chair of the Litigation Group.
Newly discovered evidence now in the hands of the FBI was presented as well as intriguing details of Mr. Jones' work on behalf of the family of Mr. Smith.