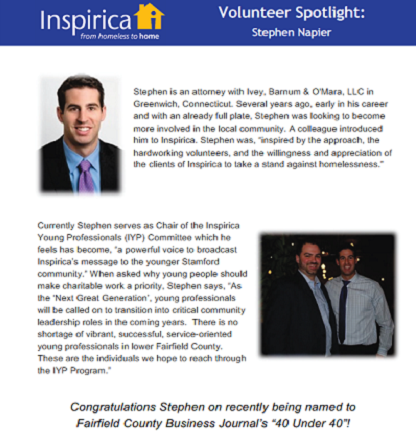 June 2016 – Stephen Napier is featured in Inspirica's "Volunteer Spotlight", for his outstanding community service efforts. Inspirica is a charity based out of Stamford, Connecticut, which focuses on breaking the cycle of homelessness in Fairfield County. Mr. Napier serves as Chair of Inspirica's Young Professionals Committee.
Click here to read the Full Newsletter from Inspirica.
May, 2016 – Donat C. Marchand invited to membership of the National Association of Distinguished Counsel, an organization which recognizes attorneys throughout the country "who elevate the standards of the Bar and provide a benchmark for other lawyers to emulate." According to the organization's website, "Members are thoroughly vetted by a research team, selected by a blue ribbon panel of attorneys with podium status from independently neutral organizations, and approved by a judicial review board as exhibiting virtue in the practice of law."
June 2015 - Ivey, Barnum & O'Mara's representation of the Estate of Concetta Russo-Carriero in its wrongful death action against the City of White Plains was included in the New York Law Journal's "Top Verdicts of 2014". Attorneys John Q. Kelly and Mark J. Schnitzler presented evidence over the course of three weeks to demonstrate that the City of White Plains had failed to properly secure or protect the parking garage adjacent to the Galleria Mall, where Mrs. Russo-Carriero was assaulted and killed walking to her parked car in late June, 2005. After three days of deliberations, the jury returned a verdict in favor of Mrs. Russo-Carriero's estate in the amount of $ 1,983,000 for her conscious pain and suffering and wrongful death. Click to read Press Release >
April 2016 – In Rowe v. Rubin, a plaintiff who prevailed on a civil complaint was entitled to reasonable attorney fees. The trial court approved hourly rates that ranged between $224 and $400 per hour for plaintiff's lead attorneys, Edward Krumeich and Stephen Walko of IBO who were described by the court as "very experienced," "helpful" and "efficient." It was also determined that the partners made appropriate use of associate attorneys who billed lower rates.
Click here to read the full article from the Connecticut Law Tribune.
May 2015 – Ivey, Barnum & O'Mara announces the winner of its annual High School Scholarship program. The Ivey, Barnum & O'Mara, LLC Scholarship is awarded to a deserving Greenwich High School student who has demonstrated a commitment to their academic studies and a dedication to community service. The scholarship was established by the law firm in May of 2000 to commemorate its 50th anniversary of service to the Town of Greenwich. The scholarship rewards those students who have demonstrated a dedication to volunteerism and the benefits their community service confers on the town's many charitable, educational and social service organizations. This year's winner is Laura Corrigan, an outstanding student with both excellent academic rankings and a remarkable record of community service involvement.