Attorneys Stephen G. Walko, Andrea C. Sisca, Stephen M. Napier and Taylor Equi selected to 2019 CT Super Lawyers and 2019 CT Super Lawyers Rising Stars Lists.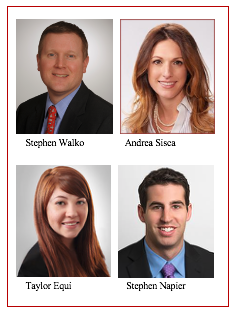 GREENWICH, CT, October 28, 2019 – Greenwich, CT law firm Ivey, Barnum & O'Mara, LLC announced that four of its attorneys have been named among the top attorneys in the state for 2019 by Super Lawyers. Stephen G. Walko, Andrea C. Sisca and Stephen M. Napier, all Partners at the firm were selected to Super Lawyers, for consecutive years. Taylor Equi was selected to the Super Lawyers Rising Stars list, for the third year running.
Super Lawyers, a Thomson Reuters business, is a rating service of outstanding lawyers who have attained a high degree of peer recognition and professional achievement. The annual selections are made using a patented multiphase process that includes a statewide survey of lawyers, an independent research evaluation of candidates and peer reviews by practice area. Selections are made on an annual, state by state basis.
About Stephen G. Walko – Recognized as CT Super Lawyer, 2015-2019
Stephen Walko focuses his practice in the areas of civil and commercial litigation, real estate and employment law. Mr. Walko, a third-generation resident of Greenwich, takes a hands-on approach regarding all aspects of litigation from pleadings, discovery and motions, through both trial and appeals. He handles matters including real estate title claims, construction disputes, securities fraud, business disputes, zoning appeals and Will contests. Mr. Walko also serves as local counsel for national law firms.
In 2008, Governor Rell appointed Mr. Walko to serve as a Public Member of the State Board of Mediation and Arbitration. In 2011, Mr. Walko was appointed by the Connecticut Neutral Arbitrators' Selection Committee to serve on the Panel of Neutral Arbitrators until his resignation. From 2008 - 2011, he served as Chairman of the Greenwich, CT Board of Estimate and Taxation. He has also served as Chairman of the Budget Overview Committee of the Representative Town Meeting and as Chairman of the Republican Town Committee. From 2011 - 2013, Mr. Walko served as a State Representative in the Connecticut General Assembly, representing the 150th District, Greenwich's shoreline. He is currently the Chairman of the New Lebanon School Building Committee, overseeing a $37 million dollar new school construction project.
About Andrea C. Sisca – Recognized as CT Super Lawyers Rising Star, 2016-2019
Andrea Sisca focuses her practice on civil and commercial litigation, including real estate, contracts, construction and other similar types of disputes. She also handles other types of litigation matters including securities fraud, business disputes, zoning appeals and Will contests. Ms. Sisca handles all aspects of litigation from pleadings, discovery (including large e-Discovery productions) and motions through mediation, arbitration or trial, and appeals. Ms. Sisca brings to the Litigation team her experience in defense work, her skill at analysis and strategizing, and her meticulous attention to factual details crucial to successful management and favorable resolution of cases. In addition to her litigation practice, Ms. Sisca advises Boards and Homeowners' Associations, as well as corporate clients on business-related matters.
Ms. Sisca is actively involved in community and charitable organizations. She sits on the Boards of Meals on Wheels of Greenwich, and the YWCA Greenwich. She is also a member of the Junior League of Greenwich.
About Stephen M. Napier – Recognized as CT Super Lawyers Rising Star, 2017-2019
Stephen Napier practices in the areas of estate & tax planning, trust & estate administration and business succession planning. Mr. Napier regularly advises individuals, families and business owners on developing tax efficient and practical wealth management strategies, including the preparation of wills, revocable living trusts, insurance trusts and business succession plans. He also helps guide fiduciaries and beneficiaries through the trust and estate settlement and administration process. Mr. Napier was a recipient of the 2016 Fairfield County "40 under 40" award given by the Fairfield County Business Journal for his business leadership, professional success and commitment to the community. He was also named by the Connecticut Law Tribune as a "New Leader in the Law" for 2018.
About Taylor Equi – Recognized as CT Super Lawyers Rising Star, 2017-2019
Taylor Equi practices in the areas of commercial and civil litigation, personal injury and wrongful death, employment law, and trusts and estates litigation. She handles all aspects of litigation, from drafting pleadings and motions, discovery, and through trial and appeals. Taylor has experience litigating cases at the Administrative Hearing, Superior Court, Appellate Court; District Court, and the 2nd Circuit Court of Appeals level. Prior to joining Ivey, Barnum & O'Mara, Taylor worked for a civil defense litigation firm in Stamford, CT, focusing her practice on professional malpractice claims, dram shop and liquor law claims as well as catastrophic personal injury claims.
About Ivey, Barnum & O'Mara, LLC
Ivey, Barnum & O'Mara, LLC is a general practice law firm which was established in Greenwich, CT in 1950. It is the largest Greenwich-based law firm, with additional offices in New Canaan, CT and New York City. The firm has more than thirty attorneys who handle a wide range of legal matters in areas including Litigation, Personal Injury, Wrongful Death, Trusts & Estate Planning, Residential and Commercial Real Estate, Corporate, Employment Law, Franchise Finance and Franchise Acquisition.
Please visit us at www.ibolaw.com and www.ibopersonalinjurylawyers.com.