203-661-6000
170 Mason Street, Greenwich, CT 06830
ATTORNEY JOHN Q. KELLY
Nationally-Recognized Personal Injury Lawyer
Subsequent to his landmark verdict as lead attorney for the Estate of Nicole Brown Simpson in its wrongful death action against O.J. Simpson, John Q. Kelly continues to successfully handle matters that receive national and international coverage, and has a reputation as a meticulous, no-nonsense litigator, schooled in the nuances of physical, forensic and circumstantial evidence, battle-tested in the courtroom on countless occasions, and seasoned by 30 years of deftly interacting with the media.
John Q. Kelly appears as both a featured guest and/or legal commentator frequently on all major network and cable news shows and been profiled/referenced in a multitude of documentaries and publications, including:
Time Magazine
Newsweek Magazine
People Magazine
Worth Magazine
Greenwich Magazine
New York Magazine
New York Times
New York Post
New York Daily News.
NBC's The Today Show
ABC's Good Morning America
CBS's The Early Show
Larry King Live
Phil Show
Nightline
Dateline
Primetime Live
Background
Kelly is described as a good storyteller, soft-spoken and low key, with no signs of the enormous ego so common in high-profile lawyers - the reputation of a nice guy outside the courtroom and a killer inside.
Starting out as a trial assistant in the Queens District Attorney's Office, Kelly prosecuted mostly homicides and major narcotics cases. Later, as a criminal defense attorney, he successfully represented at trial a number of high-profile clients charged with major crimes. Kelly then turned his attention to civil litigation, often with criminal aspects, which has been his focus for the past 30 years.
Kelly grew up in Chicago, the eighth of nine children, of a school teacher mother, and lawyer father.[1] After graduating from Georgetown University, he traveled through Europe and the Middle East for approximately two years before returning to earn his J.D. from Suffolk University Law School.
High Profile Cases
Estate of Nicole Brown Simpson v. O.J. Simpson
The lead attorney for the Estate of Nicole Brown Simpson, et al. v. O.J. Simpson in the wrongful death action resulting from the homicides of Nicole Brown Simpson and Ron Goldman. After what was described as a near-flawless performance, the jury returned a verdict finding O.J. Simpson responsible for her death and awarding punitive damages to the Estate of Nicole Brown Simpson.
Natalee Holloway's Mother, Beth Holloway
Attorney for Beth Holloway relating to the disappearance of her daughter, Natalee Holloway, while on spring break on the island of Aruba. It was Mr. Kelly's planning, and personal interactions with suspect Joran van der Sloot that directly led to van der Sloot, being indicted in the U.S. on federal extortion and wire fraud counts.
Macy's Thanksgiving Day Parade Balloon Mishap
Attorney for Kathleen Caronna, who suffered a severe traumatic brain injury during the Macy's Thanksgiving Day Parade when the Cat in the Hat balloon struck and broke a lamp post, which then struck Ms. Caronna on the head.
Estate of Kathleen Savio v. Ex-Cop Drew Peterson
Attorney for the Estate of Kathleen Savio, third wife of former Bollingbrook police officer Drew Peterson. A coroner's inquest originally ruled Ms. Savio had accidentally drowned in her bathtub, but a subsequent inquest ruled the death a homicide, paving the way for a wrongful death claim by the Estate against Drew Peterson.
Estate of Anne Scripps Douglas
Scripps publishing heiress bludgeoned to death by her husband, who then took his own life by leaping from Tappan Zee Bridge. Kelly represented Anne's estate in a subsequent custody battle over infant child.
Wrong Way Taconic Parkway Crash Victims
Attorney for the Estates of Mike Bastardi Sr. and Guy Bastardi, killed in a head-on automobile accident by a woman going the wrong way on the Taconic Parkway in her van with several children inside.
Galleria Parking Garage Homicide Victim
Attorney for Concetta Russo-Carriero who was murdered at lunchtime on a weekday while walking to her car parked in a parking garage adjacent to the Galleria Mall, owned and operated to the City of White Plains. The jury returned a verdict against the City of White Plains, finding that the City failed to keep the premises in a reasonably safe condition.
Antelope Canyon Flash Flood Disaster Victims
Attorney for the Estates of several victims of the Antelope Canyon flash flood disaster. A group of French teenage girls drowned while on a guided Trek America tour through a slot canyon in Arizona when a flash flood roared through it.
Raffaele Sollecito (Amanda Knox's Co-Defendant)
American attorney for Raffaele Sollecito, who along with Amanda Knox, is charged with the murder of British student Meredith Kercher in Perugia, Italy. Mr. Kelly was present in court in Florence, Italy when Mr. Sollecito appeared at the appeals trial to give his statement to the court and in Rome, Italy when all charges were dismissed against Mr. Sollecito.
Yankee great Joe Pepitone
Attorney for Joe Pepitone, former New York Yankees great, charged with possessing a large amount of cocaine, a loaded weapon, currency, and drug transaction records. Facing a mandatory life sentence. Mr. Pepitone was acquitted by a jury of all felony counts.
Other clients Kelly has represented include the Estate of Zachary Hartwell (passenger in car driven off-road by an intoxicated Ryan Dunn, star of the Jackass movie series), Estate of Wu (child who fell out of sixth floor hallway window when visiting grandparents) and, Estate of Rachelle Curry (drowned in Sprain Brook reservoir when fiancé drove car off road under suspicious circumstances).
ATTORNEY JOHN Q. KELLY AS SEEN IN THE MEDIA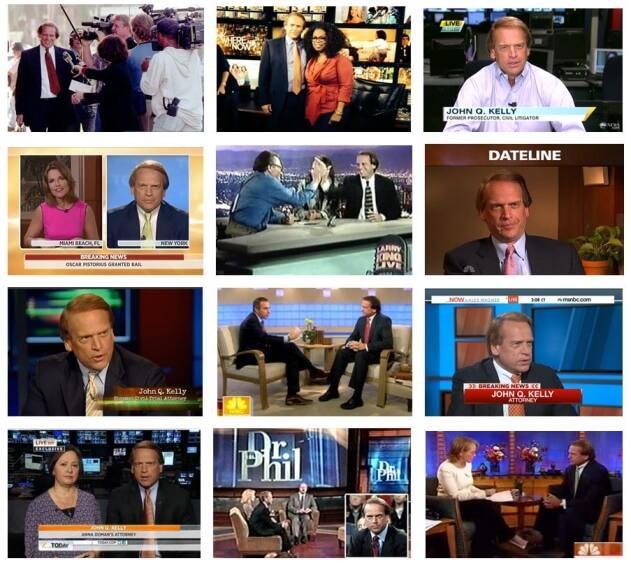 John Q. Kelly is admitted to the New York State Bar and the Southern and Eastern Districts of the United States District Court and has argued appeals in the Second and Third Circuits of the U.S. Court of Appeals and New York State Appellate Division, 1st and 2nd Departments. He has handled matters in Connecticut, New York, Illinois, Arizona, California, Texas, Colorado, Pennsylvania, Florida, Puerto Rico, Aruba, Australia and Italy.